Take a tour of the backwaters of Alleppey or Alappuzha and enjoy the famous sights and sounds of the backwaters of Kerala. Take in the lush greenery along the backwaters of Alleppey and catch a glimpse of the life on the backwaters during this tour.
Destinations Covered: 
Alleppey – Thandapara – Pullangady – Champakulam
Tour Package Duration: 
03 Nights / 04 Days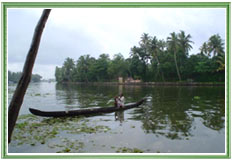 Day 01 Alleppey
Arrive at Alleppey Finishing Point Jetty at 11.30 hours. Sail through Pallathuruthy, Karimpavalavu, Karumady canal, which is a long and narrow canal, reach Thottappally to spend the night. Enroute visit Karumady Kuttan, which is a statue of Buddha.
Day 02 Thandapara
Sail through Thandapara, Pullangady and reach Champakulam. At Champakulam visit the Champakulam Church and Champakulam Chundan -the famous snake boat. Continue sailing through Nedumudy and Mancompu. Stop at Mancompu and walk through the village and visit the Bhagavathy temple, which is one of the oldest temples near the backwaters. Spend the night at Onnamkara.
Day 03 Champakulam
Sail to Pulinkunnu. Visit Pulinkunnu Church and the local market. Continue to Kavalam through Puthen Thodu a long stretch of canal. Sail through the river with paddy fields bordering the river on either side, via Mangalam to reach Cherukali Kayal. Spend the night at Cherukali Kayal.
Day 04 Kyppapauram/Azhikkal
Sail through Kuppapuram and Azhikkal Canal and reach Alleppey at 9.30 hours.