Havelock Island is part of the Andaman Islands and is known for its pristine white sandy beaches and luxurious green forest. As a result a holiday to this Andaman Island, not only allows you to enjoy nature at its best, but also gives you the opportunity to go snorkeling and scuba diving to discover the life under water as well. A tour to the Havelock beach is exciting, relaxing and rejuvenating.
Destinations Covered: 
Havelock Beach – Port Blair
Tour Package Duration: 
01 Nights / 02 Days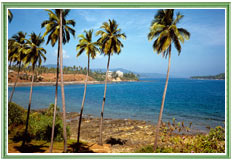 Day 01 Havelock Island
Early in the morning take the inter-island ferry to Havelock Island (54kms by sea from Port Blair). Explore and savor the island's sandy beaches and virgin forests in the day. Visit the breathtakingly beautiful Radhanagar beach. During the tourist season Tent accommodation is available on this beach. The waters around this Island are rich in corals and exotic marine life and you can get a close look at them by going snorkeling and scuba diving.
Day 02 Port Blair
Return to Port Blair from Havelock in the late afternoon and transfer to your hotel. In the evening attend the captivating Sound and Light Show at the Cellular Jail, where the story of the Indian freedom struggle can be relived.