Any trip to South India is incomplete without a visit to the Malabar Hills and the Western Ghats. A tour of the Western Ghats and Malabar Hills take you to the heart of the lush green forest that covers these hills. Enjoy nature at its best and the wide variety of birds and animals that inhabit these forests. An extended tour will allow you to cruise through the enchanting backwaters of Kerala and relax on its coconut-fringed beaches. Travel to the Western Ghats for a refreshing and relaxing trip.
Destinations Covered: 
Mumbai – Tellicherry – Coorg – Nagarhole – Sultan Battery – Cochin
Tour Package Duration: 
10 Nights / 11 Days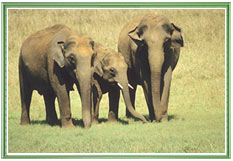 Day 01 Mumbai (Bombay)/Tellicherry via Calicut
Arrive in Mumbai and take the morning flight to Calicut. From here you will drive to Tellicherry along the Malabar Coast. On arrival transfer to hotel to spend the night here.
Day 02 Tellicherry/Coorg
The morning is free and after lunch leave for Coorg. The drive to Coorg through the lush green Western Ghats is exhilarating. Coorg is cradled in these ghats at a height of 800 meters above sea level. On arrival transfer to hotel and spend the night here.
Day 03 Coorg
In the morning take a walk in the forest with a local guide and visit a tribal village as well. Spend the night at the hotel.
Day 04 Coorg/Nagarhole National Park
In the morning leave for Nagarhole National Park. Drive 70kms south to this National Park, which is home to over 250 species of birds, tigers, leopard and elephants. On arrival transfer to the hotel. Visit the park by jeep or on elephant back or a coracle (a round boat made of cane used by the locals).
Day 05 Nagarhole
Explore the National Park.
Day 06 Nagarhole/Sultan Battery
Drive from Nagarhole to Sultan Battery in Wynad district in the middle of the Western Ghats. On arrival transfer to hotel and spend the night.
Day 07 & 08 Sultan Battery
The day is at your leisure to enjoy the bounty of nature. You could visit the Edekal Caves that have rock carvings that date back to 2500 BC or the Muthanga National Park. You could stroll through the coffee plantations as well.
Day 09 Sultan Battery/Kochi (Cochin)
Drive to Kochi and on the way visit the Guruvayur temple and the elephants that are part of the temple. On arrival at Cochin transfer to the hotel.
Day 10 Kochi (Cochin)
In the morning visit the Jewish Synagogue, Dutch Palace, St. Francis Church and the spice markets. In the afternoon take a cruise of the harbour and visit some of the island close by and the famous Chinese fishing nets.
Day 11 Cochin/Mumbai
Take a flight to Mumbai and on arrival take your connecting flight for your onward journey.
Alternatively
You can spend two nights on a houseboat on the backwaters of Kerala
OR
You can spend a few days at Mararikulam relaxing on its famous beaches.